This carbonated soft drink provides the world's only fizzy soda that quenches thirst, has no aftertastes and satisfies the tastebuds
of people on special diets.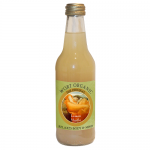 Wort Organic 'Lemon Myrtle – No Sugar' uses Xylitol to provide sweetness. Xylitol is an extract originally derived from birch trees as
an organic sugar substitute. Xylitol has been recognised in Europe for decades as having plaque reducing effects on your teeth,
having less impact on a persons blood sugar levels and has 1/3 less calories than sugar.
Free from artificial colours and flavours, Lemon Myrtle is also gluten free.
No High Fructose Corn Syrup is used in Wort Organic soft drinks.
High Fructose Corn Syrup, widely used in many soft drink products, has been linked to diabetes.
Ingredients – Wort Organic Lemon Myrtle No Sugar 330ml
Sparkling water
Certified Organic ginger root juice
Sun-dried lemon myrtle
Citric acid
Natural flavour
Xylitol
Spice Laurel extract
Click here to purchase Wort Organic Lemon Myrtle No Sugar for delivery to your door (Australia only)